Highlights
Choose from 2 locations - Baner Road & Shivaji Nagar
Unisex Spa
Inclusive of all taxes and service charges
Offer Details
Offer is on wellness services

Offer 1 - Rs.399: Foot Reflexology (25min)
Offer 2 - Rs.499: Full Body Herbal Scrub Therapy (25min) + Shower Steam
Offer 3 - Rs.699: Relaxing Head & Shoulder massage (45min) OR Exotic Foot Spa (45min)
Offer 4 - Rs.999: Choice of Full Body Massage + Swiss Shower Steam
Offer 5 - Rs.1499: Choice of Full Body Massage + Swiss Shower Steam
Offer 6 - Rs.1499: Advanced Facial Treatment for Fairness & Glow (1 session)
Offer 7 - Rs.2999: Choice of 2 exotic therapies Aromatic Bliss Mind & Body relaxing (90min) with Swiss Shower / Jacuzzi OR Wine Therapy ie Vineotherapy (90min) with Swiss Shower / Jacuzzi
Fine Print

What You Get
Offer 1: Foot Reflexology (25min)
Offer 2: Full Body Herbal Scrub Therapy (25min) + Shower Steam
Offer 3: Relaxing Head & Shoulder massage (45min) OR Exotic Foot Spa (45min)
Offer 4: Choice of Full Body Massage + Swiss Shower Steam
Offer 5: Choice of Full Body Massage + Swiss Shower Steam
Offer 6: Advanced Facial Treatment for Fairness & Glow (1 session)
Offer 7: Choice of 2 exotic therapies Aromatic Bliss Mind & Body relaxing (90min) with Swiss Shower / Jacuzzi OR Wine Therapy ie Vineotherapy (90min) with Swiss Shower / Jacuzzi
Validity
Valid until: 25.2.2015
Valid 7 days a week - 9:30AM to 8:30PM
Valid for 1 person
General Fine Print
Prior appointment mandatory (Upon purchase, you will receive a voucher with the reservation number). Rescheduling may result in additional charges
Steam & Jacuzzi is available only in Model Colony (& not in Baner branch). Shower is available at both branches
For weekend appointments, we recommend calling 2-3 days in advance
Voucher printout is mandatory
See the
rules
that apply to all deals.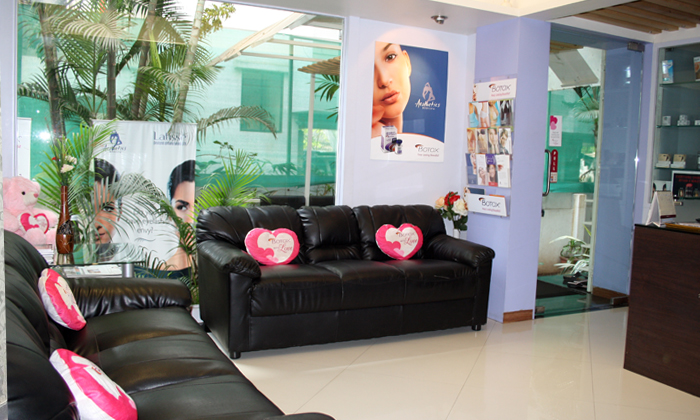 The Deal
Choose from the following:
 
Offer 1 - Rs.399 instead of Rs.900: Foot Reflexology (25min)
Offer 2 - Rs.499 instead of Rs.1000: Full Body Herbal Scrub Therapy (25min) + Shower Steam
Offer 3 - Rs.699 instead of Rs.1400: Relaxing Head & Shoulder massage (45min) OR Exotic Foot Spa (45min)
Offer 4 - Rs.999 instead of Rs.2000: Choice of Full Body Massage + Swiss Shower Steam
Offer 5 - Rs.1499  instead of Rs.3000: Choice of Full Body Massage + Swiss Shower Steam
Offer 6 - Rs.1499 instead of Rs.3200: Advanced Facial Treatment for Fairness & Glow (1 session)
Offer 7 - Rs.2999 instead of Rs.5000: Choice of 2 exotic therapies Aromatic Bliss Mind & Body relaxing (90min) with Swiss Shower / Jacuzzi OR Wine Therapy ie Vineotherapy (90min) with Swiss Shower / Jacuzzi
Choice of Full Body Massages:
Offer 4:
 
Signature Relaxation Oil massage 60 min
Swedish Relaxation massage 60 min
Thai Massage 60 min
Aroma Therapy 60 min
Post Pregnancy Skin Toning massage 60 min
Offer 5:
 
Relaxation Oil massage 90 min
Swedish Relaxation massage 90 min
Thai Massage 90 min
Aroma Therapy 90 min
Hot stone deep relaxation massage 60 min
Deep Tissue therapy 60 min 
Note: 20% OFF on package of next 5 sessions (valid on all offers)
Timings: 9:30AM to 8:30PM
Groupon Partner: Aesthetics Medispa
Aesthetics Medispa is one of the most advanced and comprehensive medispas in India, where the perfect blend of aesthetics and medical science is offered for all your wellness needs. With a state- -of-the-art cosmetic surgery center and a luxurious day spa under one roof, it offers a holistic approach to improving your appearance and health.
Aesthetics Medispa
A
1, Shreenivas Classic, Opposite Magnolia Hotel, Main Baner Rd. Baner PUNE 411045
Get Directions»
B
2, Sneh Riviera, Near Model Colony Lake, Off FC Road, Shivaji Nagar Pune 411016
Get Directions»