Highlights
Located on Pali-Khopoli Road off Mumbai-Pune Expressway
India's first International Standard Theme Park
Akin to the popular Universal Studios and Disneyland theme parks worldwide
Created by world-class international designers and innovative architectural elements
Has several themed multi-cuisine restaurants
Witness different zones that offer its own unique experiences
Viva Europa
Arabia
Asiana
Americana
India
Jambo Africa
Top Attractions:
Rajasaurus River Adventure
Salimgarh
Nitro
Scream Machine
I for India
Alibaba Aur Chalis Chorr
Mr. India – The Ride
Wrath of the Gods
Discover a range of dining options
Click here to find out about other exciting live entertainment at Imagica!
Inclusive of all taxes and service charges
Offer Details
Offer is on entry tickets:
Offer 1 - Rs.99 Now: Buy 2 Adult Tickets at Adlabs Imagica and Get 1 Adult Ticket FREE
Offer 2 - Rs.99 Now: Buy 2 Adult Tickets at Adlabs Imagica and Get 1 Child Ticket FREE
Fine Print

What You Get
Offer 1: Buy 2 Adult Tickets and Get 1 Adult Ticket FREE
Offer 2: Buy 2 Adult Tickets and Get 1 Child Ticket FREE
Ticket Cost:
Weekday (Mon-Fri)
Per Adult: 1250
Per Child 950
Weekend (Sat & Sun)
Per Adult: 1600
Per Child: 1250
Validity
Valid from 20.08.2014 to 05.10.2014
Valid 7 days a week
Timings:
Saturday & Sunday: 11 AM to 9 PM (Rides open till 8 PM)
Monday to Friday: 11 AM to 8 PM (Rides open till 7 PM)
Valid for Buy 2 Get 1 FREE
General Fine Print
How to travel to Adlabs Imagica:
By Train: 7:50AM local train from CST to Khopoli. Free Imagica Shuttle from Khopoli Station at 10:00AM every morning
By Road:
Quick and easy 90min drive via the Mumbai-Pune Expressway
Bus travel can be booked on www.adlabsimagica.com (if Imagica ticket booked online)
By Air, Closest Airports are:
Mumbai: Chhatrapati Shivaji Airport
Pune: Pune Airport
Voucher printout is mandatory
Offer 2: Child is from 3-12 years of age. 12 yrs & Above is Adult
How to Redeem
Step 1: Customer purchases the offer on Groupon website
Step 2: Carries the Coupon code / Voucher to Adlabs Imagica Ticket counter to avail the offer
Step 3: Imagica ticketing validates the coupon code and issues the offer if coupon code is valid
See the
rules
that apply to all deals.
The roller coasters, the water rides, the food...A journey to Adlabs Imagica means endless amounts of fun. Revel in the fun and frolic with this Groupon.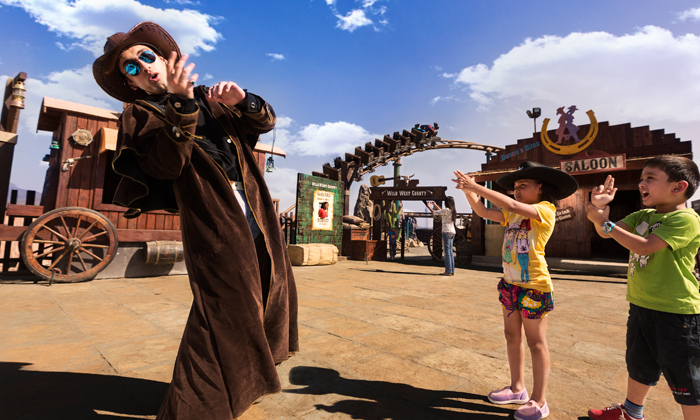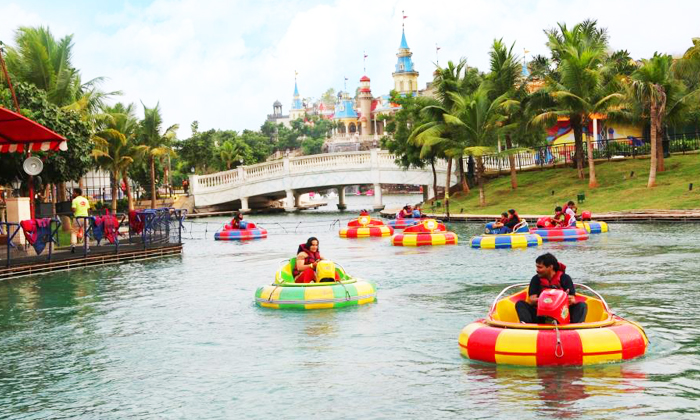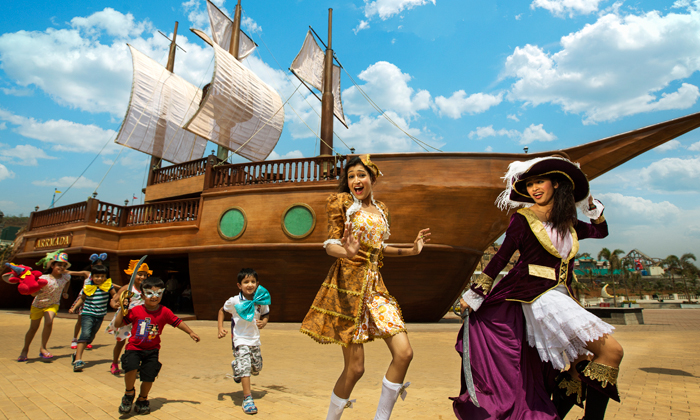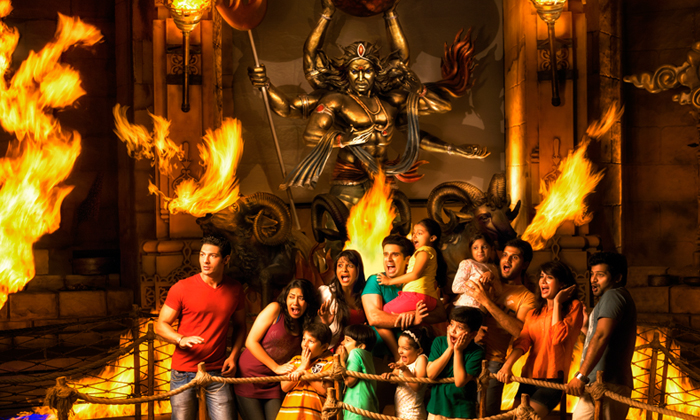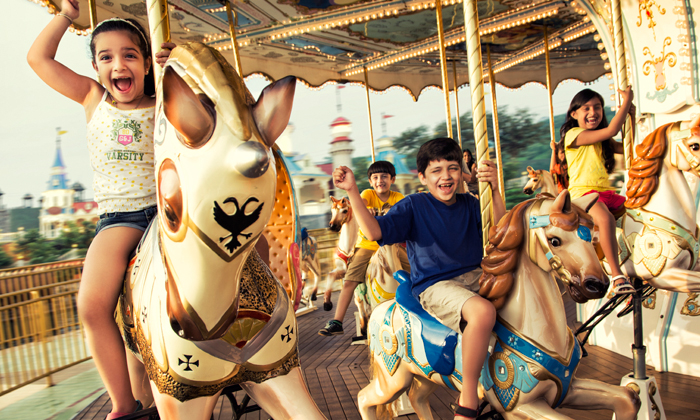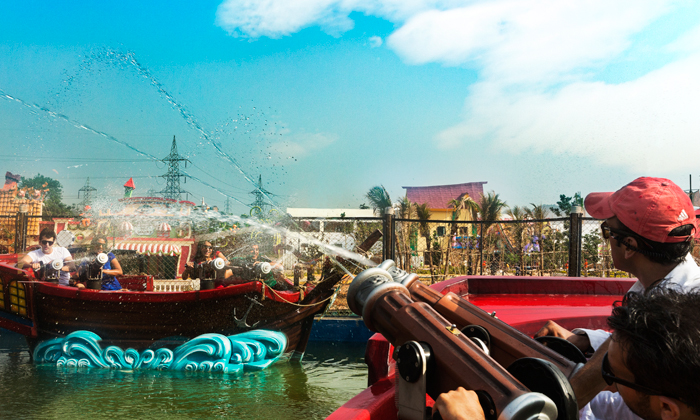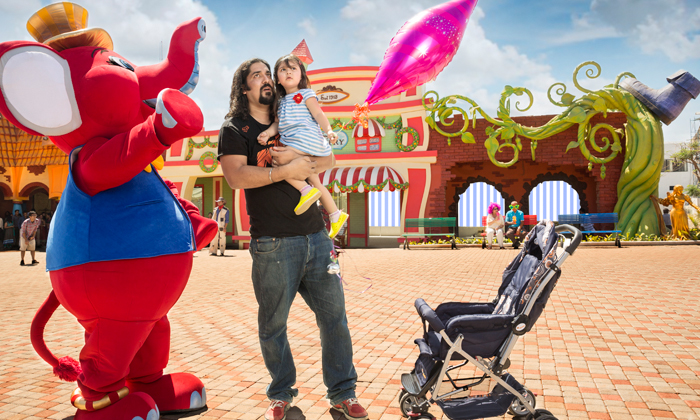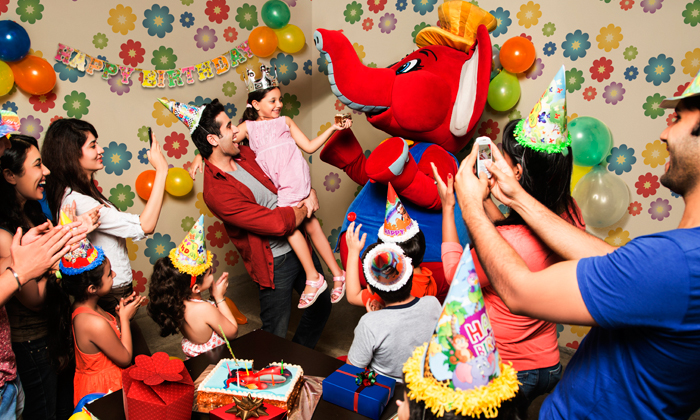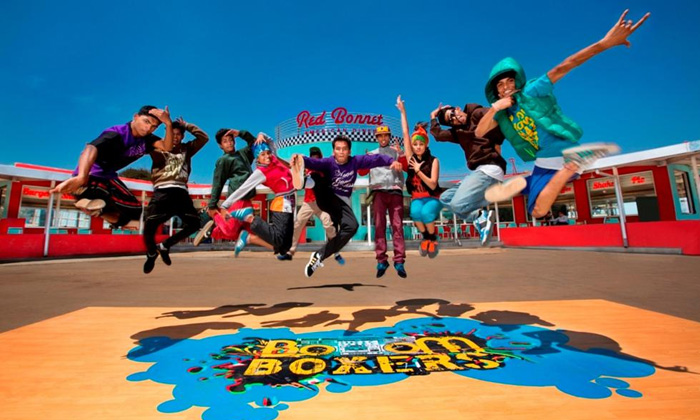 The Deal
Choose from the following offers:
Offer 1 - Rs.99 Now: Buy 2 Adult Tickets and Get 1 Adult Ticket FREE
Offer 2 - Rs.99 Now: Buy 2 Adult Tickets and Get 1 Child Ticket FREE

Weekday (Mon-Fri)
Per Adult: 1250
Per Child 950

Weekend (Sat & Sun)
Per Adult: 1600
Per Child: 1250

Rides & Attractions Include:
Splash Ahoy!: A wild water battle awaits! Get on board the pirate boats armed with deadly water guns. Target your opponents, duck from their aim and save yourself from getting drenched by enemy pirates. Watch out! Even bystanders could attack you.
Salimgarh: Uncover the haunting mystery! Mind you, Salimgarh is not for the feeble hearted. It is believed that Aurangzeb, the Mughal king, imprisoned his daughter Zebunissa for twenty years in this very fort. No one knows what happened to her. Only when you travel through Salimgarh's dark passages, will you know if she is long dead or still alive amidst the haunted walls.
Alibaba Aur Chalis Chorr: Claim your treasure! Walk around the souks of the exquisite kingdom of Gulabad and you will discover a cave. Just like the story of Alibaba goes, you must manoeuvre through the exquisite hidden cave and shoot all the forty nasty thieves with your Arabic flintlock pistol. Only if you succeed, will a treasure be uncovered to you. So, go ahead and shoot 'em up. This interactive dark ride is the first of its kind in India.
Gold Rush Express: Welcome to the Wild Wild West! All aboard this mine train that will take you through the world of Jesse James and Butch Cassidy. From the ravines and the ranch grounds of the cowboys to the parlours and the saloons of the pistol wielding outlaws,this journey is not going to be an easy one. This ripping ride drops you from the height of 66 feet and sends you speeding through tunnels and abandoned gold mines. After all, surviving the old American West was always a rollercoaster ride!
Rajasaurus River Adventure: Transport yourself at the feet of dinosaurs! Travel way back into an era where humans are not welcome by the prehistoric creatures. Beware of the mighty Rajasaurus, who is particularly displeased with the encroaching tourists. Crouch and defend you must, because the dinosaur is definitely not glad to see you. Like most adventures, this one too saves the best for the last- a 66 feet drop. So, bon voyage and hope you make it back to our times safely.
Mr. India- The Ride: Once again, Mogambo khush hua! Why? Because he is back! The infamous Bollywood villain survived the destruction of his island and is back to capture the invisibility bracelet and slay Mr. India, once and for all. So, get on boardMr. India's yellow car along with Seema and TP, his new sidekick robot and help him withstand Mogambo's vengeance.
Incepted for the first time in India, the motion simulation technology lends an absolutely new way of experiencing Mr. India's contemporary adventure. Get ready for some new age "Hawa- Hawai".
I For India: The best of India from an eagle's eye view! Soar over India and experience a cinematic showcase of the most marvellous sights, landscapes, monuments and cities of India just like a bird. It's going to be one proud celebration of the beauty of India. Gear up for goosies! Buckle up on your unique flying seats, get suspended in the air and watch this mesmerising film projected at 48 FPS on a 90 feet wide screen. The India in your mind will never be the same again!
Deep Space: To the moon and back! Hop on to this high adrenaline roller coaster that takes you into outer space among galaxies and black holes passing through various planets and meteors. This coaster is uniquely constructed inside a massive dome, which itself is a sight from miles away. The Deep Space coaster is doubly mind blowing. Firstly, it is India's first dark coaster ever. And secondly, it works on the Linear Synchronous Motor (LSM) magnetic launch, which has been used in India for the very first time. This technology will shoot you to crazy speeds in a matter of mere seconds. So, gear up for this truly out- of- this- world experience.
Cinema 360- Prince of the Dark Waters: Experience a fantastical world encompass you! A beautiful story of a world thriving deep under water is narrated in a way you have never experienced before. Watch therealm of mythical mermaids come alive at Cinema 360 dome theatre. Thestory, displayed through 6 projectors at a 4k resolution onto screens as massive as 3100 sq feet, quite effectively transports you far far away into the dark waters.
Wrath of the Gods: Gods of fury! When humans disturb the harmony in the shrine of the elemental gods, wrathis the least you can expect. Experience the ultimate outrage of the ancient deities of Wind, Water and Fire through a perfect blend of live theatre, special effects and multimedia in this disaster ride.
D2 - Dare Drop: Shoot to the sky and drop to the ground! This one won't elevate you at a snail's pace but launch you to crazy heights in a matter of seconds. Before you can even soak in the view, you will drop faster than gravity and experience a crazy blood rush. This only "shot and drop" attraction in India lifts you up to a height of 132 feet with 4G – force each way. The highest speed at which you travel is about 73km/hr. This ride is truly a dare.
Scream Machine: Swingn' spin n' scream! This gigantic rotating pendulum is surely for the crazy ones. Spinning all the while, rise to steep angles much above ground level with a whole lot of suspended air time. We promise, you will scream your lungs out! The Scream Machine oscillates to an angle of 120 degrees to a height of 148 feet and is the tallest ride of its kind in India.
Save the Pirate: Row,row, row your boat! Just that you will be rowing upstream in a hurry to save your pirate friend stranded at the top of the tower. So, work those muscles, mightytots! Because, the first boat to get to the top wins.
Tubbby Takes Off: Theflight of a baby elephant! Tubby has been learning to fly with the help of hisfather. Voila! He has succeeded. Come join him in his first flight aboard a merry- go- round.
Loch Ness Explorers: Beware of the Loch Ness monster! The legendary monster has finally made an appearance in the Scottish lake of Loch Ness. Get on to a log and explore the flumes and the rapids created by the emergence of this famous Loch Ness Monster. What's a water expedition if not nail- bitingly exciting!
Mambo Chai Chama - Crazy TeaCups: African crockery goes mambo! Pick your seat in one of the tea cups and control it's movements against the others. Spinning in frenzy around a monumental tea pot requires a fair quota of madness.
Bump It Boats: This is going to be one bumpy ride! Pick your super awesome motored raft and buckle up. Select your target, race toward them and then hit. Water fights will have a fun new meaning.
The Magic Carousel: Magically gallop in cinematic slow motion! A classic entertainer, the carousel, is a must– do for the child in you. Our Arabic carousel will take you down a beautifulnostalgia lane. And if you are a child, here's a treat you will never forget.
Happy Wheelss: Happy Wheelss is a Driving School for the kids', that teaches them how to drive and the basic rules of real life driving like stopping at the red light, giving way to other vehicles, what to do when turning left or right,using the right lane and more. This fun ride has colourful double seater cars with a real dashboard, seat belts, brake and an accelerator pedal.
Nitro: Get a ride on India'sBiggest Baddest Rollercoaster. Standing at a staggering 132-feet height, with over 2800 feet of track length, Nitro provides an adrenaline rush during the 150 seconds of pure excitement! It goes through five exciting inversions and loops. Once the riders are harnessed onto the pedestal style chairs, the floor gives way, providing a "floorless" effect. Unlike any conventional coaster, which allows the passengers to have their feet firmly on the ground, this unique coaster is designed to simulate a "flying chair", giving every passenger a virtual front-row view through the five inversions.
Motion Box Theatre: Experience the thrill of 4D effects! This is a Motion Simulator Ride. This unique attraction is a 4D cinema where a stereoscopic 2D or 3D film plays on the screen and the seats add the 4th dimension by way of vibration, aromas etc.
Humpty's Fall: Humpty's Fall is a mini drop ride; an evergreen one for thekids. With a short 10 meter height, this tower rotates 360 degrees while itgoes up and down. Kids can get onto this one and take the famous Humpty's Fall!
Wagon-O-O-Wheel: Wagon-O-O-Wheel is a mini Ferris wheel for the kids. At a height of 6.8 meters and equipped with 6 carts, this one makes even parents let the child in them free!
Zooballoo: A band of fun wild animals has landed at Imagica to turn yourday into a happy musical water splash! A music band created by five fun wild animals is here to entertain you. Not only do they play awesome music, but they also splash tons of water. So, while the kids enjoy the water streams ejected by the elephant, the alligator, the baboon and the kangaroo, the elder ones could sit by on a bench and cool off from the adrenaline excitement of Imagica or jump right in for some splattering fun!
The Detective BowWow Show: India's first Live Interactive theatre! Detective Bow Wow, ananimated character, speaks to the young and old alike in real-time. You can help him solve the Case of the Missing Dragon. Sing along and dance with himbut be careful or he could think you are the thief.
Timings:
Saturday & Sunday: 11 AM to 9 PM (Rides open till 8 PM)
Monday to Friday: 11 AM to 8 PM (Rides open till 7 PM)
Groupon Partner: Adlabs Imagica
Adlabs Imagica is India's first and only International standard Theme Park, offering fun, action, entertainment, dining and shopping at a single location. Imagica is driven by a whole world of fantastical themes to bring Indian families' experiences that they have never had before. No expense has been spared to bring in world class international designers, the architectural elements and the novel attractions to rival any park in the world.

Adlabs Imagica
A
Sangdewadi, Pali-Khopoli Road, Off Mumbai-Pune Express Way. Dist: Raigad Mumbai 410203
Get Directions»