Highlights
Located at DLF Phase 4, Gurgaon
Choice of meals, drinks, starters and more
They are in the food line since 2008
They serve multi-cuisne, barbeque with drinks & coolers 
Inclusive of all taxes and service charges
Fine Print

What You Get
Offer 1 for 1 Person: 3-Course Meal + 2 Mocktails / 2 Brewewd Drinks
Offer 2 for 2 Persons: 3-Course Meal + 4 Mocktails / 4 Brewewd Drinks
Offer 3 for 2 Persons: 6 Domestic / Brewed Drinks + 2 Veg / Non-Veg Snacks
Offer 4 for 1 Person: UNLIMITED Brewed Drinks + UNLIMITED (2 Veg/ Non-Veg) Snacks
Offer 5 for 1 Person:UNLIMITED Domestic Drinks + UNLIMITED Starters (2 Veg/Non-Veg served on table)
Offer 6 for Couple: UNLIMITED Domestic Drinks + UNLIMITED 2 Veg / Non-Veg Snacks
Inclusions:
Inclusions for 3-Course Meal for 1 Person:

1 Starter / Soup
1 Main Course
1 Dessert
UNLIMITED Breads



Inclusions for 3-Course Meal for 2 Persons:

2 Starters / Soup
2 Main Course
2 Desserts
UNLIMITED Breads
Validity
Valid until: 16.07.2015
Valid 7 days a week
Timings:
For Drinks - 12:00 Noon to 12:00 Midnight
Lunch - 12:30PM to 3:30PM
Dinner - 7:30PM to 10:30PM
Valid only for dine-in. Not valid for takeaway / home delivery
General Fine Print
Table time - 2hrs
Offers are subject to availability
Child policy:
Children above 10yrs buy a separate voucher
Prior appointment mandatory (Upon purchase, you will receive a voucher with the reservation number). Rescheduling may result in additional charges
For weekend appointments, we recommend calling 2 - 3 days in advance
Voucher printout is mandatory
Anti wastage policy:
Customers will be served 1 portion / drink at a time; replacements will be served after completion of previous serving
Customer will be charged at MRP for any dish of which 50% is left over
See the
rules
that apply to all deals.
They say that hunger is the best sauce. But don't wait until those stomach pangs get the better of you. Dine away with this Groupon.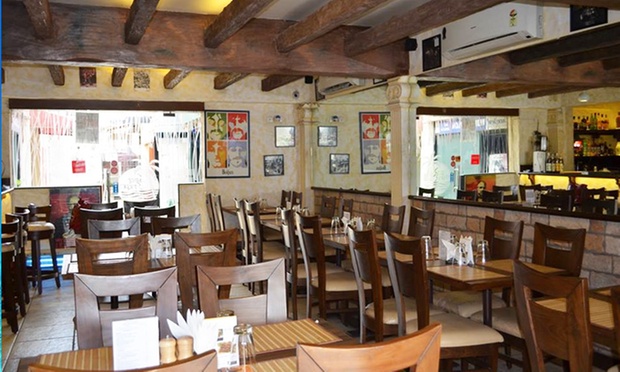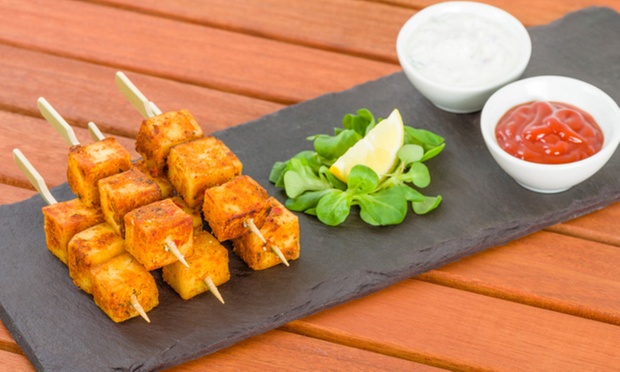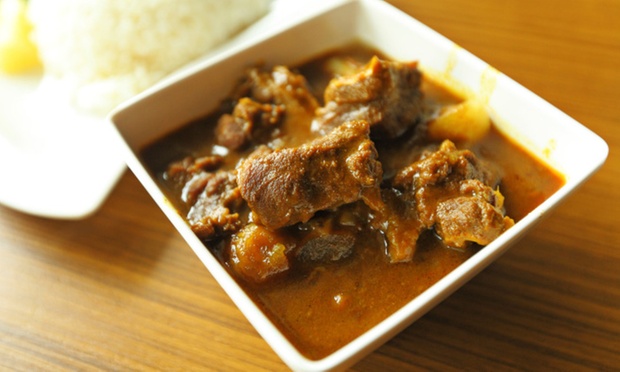 GROUPON MENU
Vegeterian Soups
Manchow
Sweet Corn
Hot & Sour
Cream of Vegetable Soup
Talumien
Tomato Shorba
Lemon Coriander
Cream of Tomato
Non Vegeterian Soups
Chicken Manchow
Chicken Sweet Corn
Chicken Hot & Sour
Cream of Chiken
Talumien Chicken
Vegeterian Starters
Dahi Kabab
Tandoori Gobhi
Hara Bara Kabab
Veg Seekh Kabab
Soya Champ
Soya Malai Champ
Tandoori Aloo
Paneer Tikka
Paneer Kali Mirch Tikka
Paneer Pudina Tikka
Paneer Malai Tikka
Achari Paneer Tikka
Mushroom Tikka
Mushroom Kali Mirch Tikka
Stuffed Mushroom Tikka
Veg cutlet
Peanut Masala
Chana Chaat
Acchari Aloo
Tandoori Salad
Aloo Chat (Boiled/Fried)
Fried Wanton
Dry Gobhi Manchurian
Spring Roll
Veg Salt & Pepper
Crispy Mushroom
Manchurian Dry
Chilli Paneer
Momos
Honey Chilli Patoto
Chilli Tofu
Chinese Bhel
Non Vegeterian Starters
Chicken Tikka (Achari/Malai/Kali Mirch /Lahsuni)
Chicken Seekh kabab
Mutton Seekh Kabab
Chicken Tangri
Stuffed Tangri
Egg Bhurji
Shreded Lemon Chicken
Crsipy Chicken with red pepper
Spring Roll Chicken
Chilli/Hot Garlic/Ginger Chicken Dry
Chicken Salt & Pepper
Chicken Manchurian Dry
Crispy Honey Chicken
Chicken Lollipop
Chicken Fried Wanton
Honey Chilli Chicken Dry
Drums Of Heawen
Sesame Chicken
Chilli Mushroom Dry
Veg Main Course
Yellow/Missi Dal Tadka
Dal Makhni
Palak/ Shahi/ Matar/ Kadhai Paneer
Paneer Butter Masala/Pasanda/Lababdar
Jeera Aloo
Mix Veg
Chana Masala
Malai Kofta
Mushroom Matar
Soya Champ Masala
Mushroom Masala
Aloo Gobhi
Karhi Pakora
Bhindi Masala
Veg Manchurian with Gravy
Chilli Paneer garvy
Chilli Mushroom Gravy
Main Course Non Veg
Butter Chicken
Chicken Curry /Masala /Kadhai /Saag/rahra /Methi/ Tawa /Kali Mirch /Quorma/ Dhania
Chicken Tikka Butter Masala
Mutton Curry/ Roganjosh/ Kadhai/ Rahra /Quorma
Egg Curry
Chicken in Shezwan /Chilli /Ginger /Hot Garlic /Sweet & Saur / Manchurian /Lemon Sauce
Breads
Plain Tandoori Roti
ButterTandoori Roti
Roomali Roti
Missi Roti
Plain Nan
Butter Nan
Lachha/Pudina Parantha
Groupon Partner: Spice Street
Spice Street, located at DLF Phase 4, Gurgaon serve a variety of drinks, starters & more on their menu. They have a refreshing ambiance which is suitable for family & social gatherings. In addition, they also have a well equipped staff & service that will make your visit a satisfying one.
Spice Street