Highlights
Awarded 'Retailer of the Year' for 2 consecutive years
'International Exhibitor of the Year' 2008
Choose from 62 locations
Click here to view the location list
Inclusive of all taxes and service charges
Offer Details
Offer is on Popcorn Combo & movie tickets
Offer 1 - Rs.25: Get 1 Soft Drink (300ml) + 1 Small Salted Pop Corn with Purchase of 1 Movie Ticket
Offer 2 - Rs.50: Get 1 Ticket FREE on Purchase of 2 Movie Tickets
Fine Print

What You Get
Offer 1:Get 1 Soft Drink (300ml) + 1 Small Salted Pop Corn with Purchase of 1 Movie Ticket
Offer 2: Get 1 Ticket FREE on Purchase of 2 Movie Tickets
Validity
Valid until: 31.10.2014
Valid on all shows
Not valid on online bookings
Groupon Offer is not valid on Oct 02, 2014 and Oct 23, 2014
Not valid for cash back offer
General Fine Print
Must be redeemed in a single visit - Free ticket has to be availed for the same show and single transaction (same date / time / location/ category)
Offer 1 & Offer 2 cannot be clubbed
Cannot be clubbed with any other offer
Voucher printout is mandatory
See the
rules
that apply to all deals.
Movies offer the shortest routes in tactics of escapism when confronted by the Godzillas of reality. Get this Groupon to free tickets and the consequent company to make your getaway.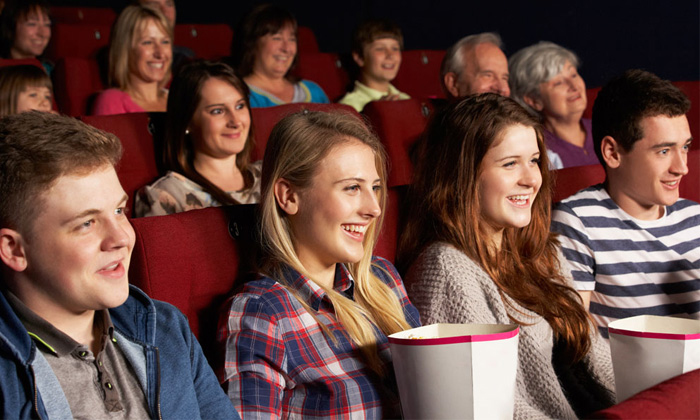 The Deal
Choose between the following:
Offer 1 - Rs.25: Get 1 Soft Drink (300ml) + 1 Small Salted Pop Corn with Purchase of 1 Movie Ticket
Offer 2 - Rs.50: Get 1 Ticket FREE on Purchase of 2 Movie Tickets
Location List
Andhra Pradesh
Gold Spot Hyderabad - Hyderabad
Chattisgarh
Taran Durg - Durg
Krishna Raipur - Raipur
Gujrat
Himalaya - Ahmedabad
Rworld Gandhinagar - Gandhinagar
Rajshri R 21 - Gandhinagar
Shalimar R 16 - Gandhinagar
Mehul Jamnagar - Jamanagar
Movie World Palanpur - Palanpur
City Point Patan - Patan
Crystal Mall Rajkot - Rajkot
Dharam Rajkot - Rajkot
Geet & Gunjan Vapi - Vapi
Haryana
Ansal Palam Vihar - Gurgaon
Big Cinemas Kundli - Sonipat
Karnataka
Madhya Pradesh
Alka Chhindwara - Chhindwara
Mangal - Indore
Abhishek Khandwa - Khandwa
Maharashtra
IMAX - Mumbai
Moviestar - Mumbai
Little world Kharghar - Mumbai
Vashi - Mumbai
Huma - Mumbai
Metro - Mumbai
Mulund - Mumbai
Sangam - Mumbai
R Town Centre - Mumbai
Sangam Nagpur - Nagpur
Jyoti Chitra Nanded - Nanded
Divya - Nasik
Priti Parbai - Parbani
Moreshwar Pen - Pen
Gold - Pune
New Pride - Sangli
Chhaya Solapur - Solapur
Rajkala Wardha - Wardha
Radha Krishna - Akola
Radha Krishna - Chandrapur
Chinchwad - Pune
Big Cinemas Rajesh - Amravati
Ram Chitra Mandir - Latur
Anjali Sangeeta - Aurangabad
New Delhi
Punjab
MSP Pathankot - Pathankot
Jagat Cinemas - Pathankot
Paras Downtown Zirakhpur - Zirakhpur
City Centre Bhatinda - Bhatinda
Viva College Jalandhar - Jalandhar
Rajasthan
Krishna Sriganganagar - Sriganganagar
Cinemagic Bikaner - Bikaner
Galaxy Jaipur - Jaipur
Cinestar Jaipur - Jaipur
Natraj Kota - Kota
Uttar Pradesh
Rave TGIP Noida - Noida
Rave TDI Agra - Agra
Bansal - Ghaziabad
Ansal - Ghazaiabad
Ansal Greater Noida - Greater Noida
Rave 3 - Kanpur
Rave Moti - Kanpur
Pacific Mall Mathura - Mathura
Uttaranchal
Vikas Dehradun - Dehradun
Groupon Partner: BIG Cinemas
BIG Cinemas, a division of Reliance MediaWorks Ltd theater chain, has over 515 screens in India, US, Malaysia, and the Netherlands. BIG Cinemas was awarded 'Retailer of the Year' at the Reid & Taylor Awards for Retail Excellence for 2 consecutive years along with winning the title of 'International Exhibitor of the Year 2008' by CineAsia.