Highlights
Located in Dakshin Marg
The Cafe at JW Marriott is known for its use of fresh ingredients and gourmet recipes
Contemporary all day Dining restaurant serving authentic International Cuisine
Offers a lavish buffet spread
Interactive cooking stations perfectly crafted to give our guests an Exquisite Culinary experience
Inclusive of all taxes and service charges
Offer Details
Offer is on buffet meals

Offer 1 - Rs.699: Buffet Lunch with UNLIMITED Mocktails
Offer 2 - Rs.999: Sunday Brunch with UNLIMITED Mocktails
Offer 3 - Rs.1049: Buffet Dinner with UNLIMITED Mocktails
Fine Print

What You Get
Offer 1:Buffet Lunch with UNLIMITED Mocktails
Offer 2: Sunday Brunch with UNLIMITED Mocktails
Offer 3: Buffet Dinner with UNLIMITED Mocktails
Set menu displayed below/ rotational menu displayed below
Validity
Valid until: 7.1.2015
Timings:
Buffet Lunch (Monday to Friday) - 12:30 Noon to 3:00PM
Buffet Lunch (Saturday) - 12:30 Noon to 4:00PM
Buffet Dinner (Monday - Sunday) - 7:30PM to 11:30PM
Sunday Brunch - 12:30 Noon to 4:00PM
Valid for 1 person
Offer 1 not valid on Sunday
Offer 3 is not valid for dinner on 11.10.2014
Offers not valid on special days
Valid only for dine-in – Not valid for takeaway / home delivery
General Fine Print
Child Policy:
Child below 3yrs - FREE
Child between 3 to 10yrs - 1 voucher is valid for 2 children
Child above 10yrs/Extra Guest - Buy separate voucher
Prior appointment mandatory (Upon purchase, you will receive a voucher with the reservation number). Rescheduling may result in additional charges
For weekend appointments, we recommend calling 2-3 days in advance
Voucher printout is mandatory
Anti-wastage policy:
Customers will be served 1 portion at a time; replacements will be served after completion of previous serving
Customer will be charged at MRP for any dish of which 50% is left over
See the
rules
that apply to all deals.
Like cartoon sound effects and open-heart surgery, breakfast and lunch are better when combined. Feast upon a compatible combination with this Groupon at The Café – JW Marriott.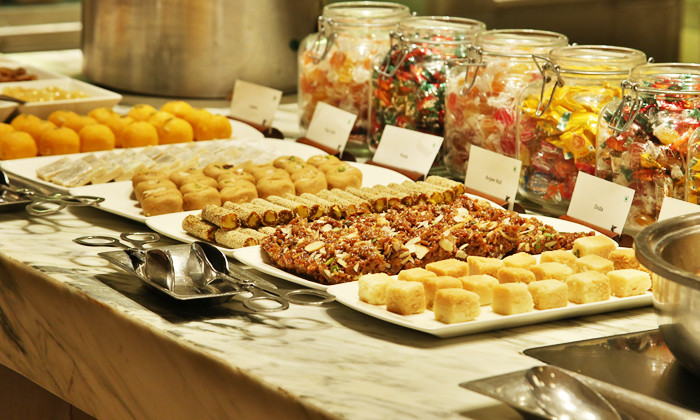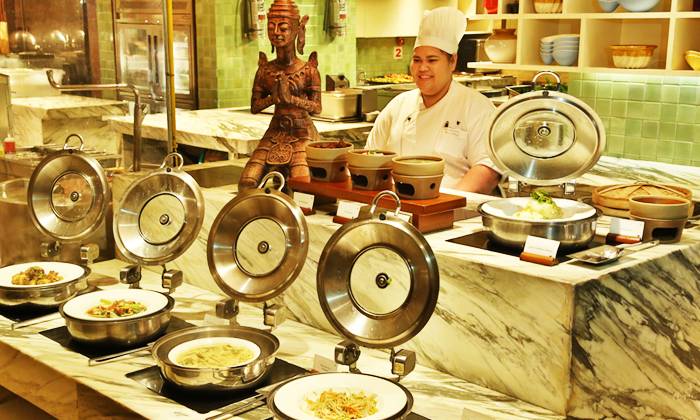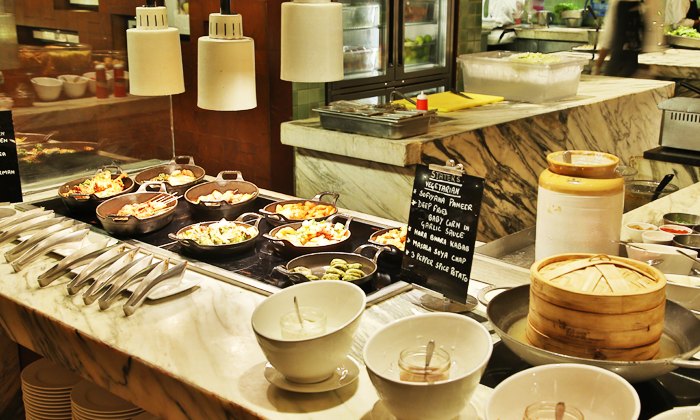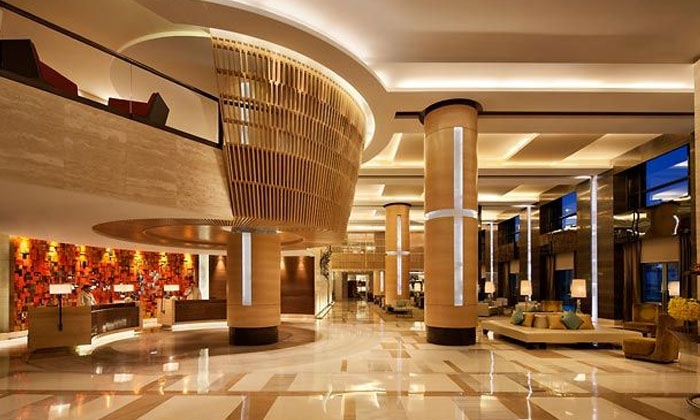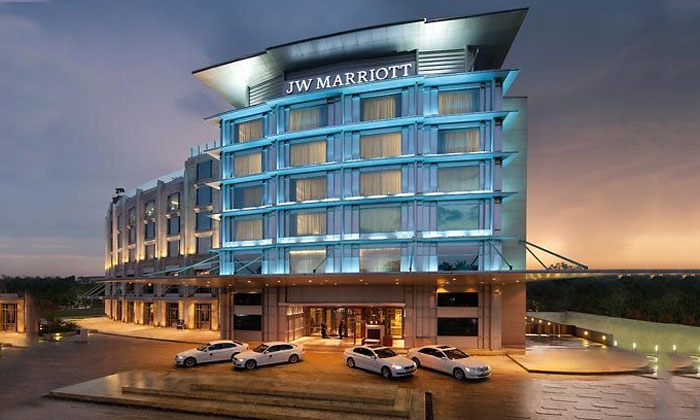 The Deal
Choose from the following:

Offer 1 - Rs.699 instead of Rs.1590: Buffet Lunch with UNLIMITED Mocktails
Offer 2 - Rs.999 instead of Rs.1880: Sunday Brunch with UNLIMITED Mocktails
Offer 3 - Rs.1049 instead of Rs.2055: Buffet Dinner with UNLIMITED Mocktails
Mocktails
Watermelon Delight
Sweet Lime Slush
7up
Pepsi
Buffet Lunch:
Soup
2 Thai Veg and Non-Veg
2 Soup of the Day
Salad: 8 Varieties - 1 Live Salad Counter
Main Courses
Thai (4 Veg and 1 Non-Veg)
Indian (4 Veg and 3 Non-Veg)
Snack (1 Veg and 1 Non-Veg)
Dessert: 20 Types of Desserts
Live Station: Live Station of Chaat Papri
Buffet Dinner:
8 Salads (4 Veg + 4 Non-Veg)
1 Live Salad Section
4 Soups (1 Veg+ 1 Non-Veg Soup of the Day, 1 Thai Veg + Non-Veg Clear Soup)
5 Veg Snacks
4 Non-Veg Snacks
1 Veg Dim Sum
5 Thai Main Courses
5 Veg Indian Main Courses
1 Rice Preparation
3 Non-Veg Indian Main Course
1 Raita Station
2 Veg Western Main Courses
2 Non-Veg Western Main Courses
1 Veg Pizza Corner
1 Live Pasta Station
1 Chat Counter
18 Desserts
4 Flavors of Ice Creams
2 Ice Cream Sandwich
6 Varieties of Fresh Fruit
Sunday Brunch:
Salads & Charcuterie
Breads & Cheese
Soups (Veg & Non-Veg)
Live Egg Counter
Live Dosa Counter (Rice & Lentil)
Live Pasta Counter
Live Starters & Grill
Live Chaat Counter
Indian Buffet
Continental Buffet
Oriental Buffet
Soft Beverages
Desserts (Indian & Western)
Ice Creams
<br/ >
Timings:

Buffet Lunch (Monday to Friday) - 12:30 Noon to 3:00PM
Buffet Lunch (Saturday) - 12:30 Noon to 4:00PM
Buffet Dinner (Monday - Sunday) - 7:30PM to 11:30PM
Sunday Brunch - 12:30 Noon to 4:00PM
Groupon Partner: The Cafe - JW Marriott
The café located within JW Marriott is part of a 5-star property located in Dakshin Marg close to the airport. The JW Marriott houses various restaurants, the renowned Quan Spa, JW Fitness and a rooftop swimming pool. The Café is the exclusive in-house coffee shop that serves up global cuisine.
THE CAFE-JW MARRIOTT